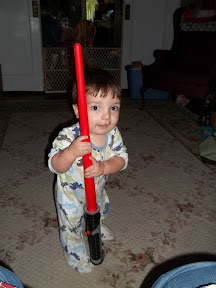 You can't tell from his pleasant expression but this little guy has a bad cold and an ear infection. His Dad brought him in to the doctor and I was correct in assuming that the large amount of drool and mucus he's been producing along with his occasional crankiness was indeed the cause or result of an ear infection. Not happy to be right about stuff like that. Sorry Garrett :(
It is not often that these two are alone at our house. It was a nice change of pace. They benefitted from some uninterrupted Grampa and Gramma time. Though they have a blast with the cousins and I think Har and I would get to be boring companions pretty quick. It was a pleasant quiet evening.
We dined on the porch.
Cleaning plates in record time.
There was playing to be done.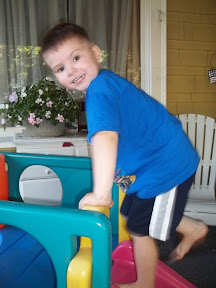 Exercising.
Climbing.
Squatting.
And chalking!
I love this little romper on Katie. Alyssa isn't fond of it but it is so reminiscent of what she and her sisters wore back in the day that I had to buy it. I think it's adorable!!! Thanks Lys for humoring me and wearing it on her.
The are so cute when they are sleeping! In their case they are cute awake too.
Love these two...and their sister that is on the way!
Hurray for GRANDS! They make our life rich.
- Posted using BlogPress from my iPad