Garrett and I brought the kids to school this morning and decided to head to the mall to give "the Uncles" a few uninterrupted minutes to get some of their own schoolwork done. I called Har and he walked over to join us for a "coffee" break.
Opposites DO attract!
I almost always get an iced coffee or iced tea from Starbucks these days. Harlan orders an extra hot latte (sometimes flavored, but always hot) no matter the weather. I sometimes get a brain freeze and need a sip of his and sometimes he wants a sip of mine. We're cool like that.
First Pumpkin bread of the season
Garrett got to have a bit of pumpkin bread. He was checkin' it out pretty closely. I'm sure we've tried to get him to eat things he didn't want to from time to time.
It was a hit! And not too crumbly. A good choice.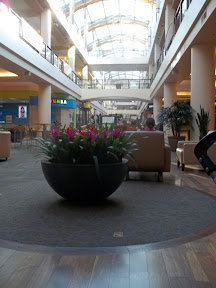 I love Lloyd Center. Especially in the early morning when there are only a few walkers and some of the coffee crowd around.
It allowed the little guy to do a bit of wandering while we stayed close by.
Grampa got to carry his buddy to the play area. They stopped to check out Big Bird's VW van.
New to us preschool play area.
Har brought Garrett to the far side of the area to discourage his bolting for the entrance. The place as been finished for probably a year but we've never gone there before. It is a well maintained and kid friendly space.
Slidin' down the celery. He did great with getting around.
He was drawn to this ambulance type vehicle with a slide on the back. He sat in the seat and climbed all over. He'd go to play elsewhere but always came back to this thing.
The whole area has a very thick padding under the nicely designed carpeting. This butterfly was beautiful.
There is a trail that goes around the perimeter and has various tips for healthy living.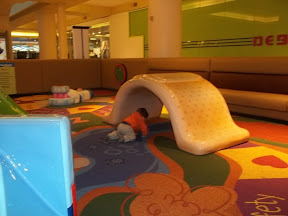 The one thing that I was kind of creeped out about was the bandaid that you crawl under. I know kids love to sit under things but for some reason I can't get past the idea that only used bandaids are shaped like this. Yuck!
Big screen shows the whole area
Can you see me taking a picture in this picture? Garrett is in the far right corner. I wonder if they keep a video of this area. Not a bad idea.
I put Garrett in the stroller and went into Ross to shop for a bit. Next thing I knew he was fast asleep! I sat in Barnes and Noble and let him sleep for a little bit longer before heading back home.
I'm looking forward to taking
Rowan and Katie
and
Henry and Anabelle
here the next time they are in town. I think Gar-bear would appreciate some company in exploring. And I'd appreciate some time with my girls too!
- Posted using BlogPress from my iPad