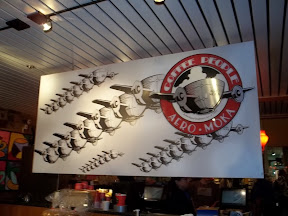 Portland airport still has one of the original Coffee People shops!
Stop over in San Francisco. Wish I would have had a window seat coming onto there. This is a must for a vacation destination for Har and me.
CHICAGO! Not quite the birthplace of professional hockey but cool none the less. Spent 3 hours hanging around in the airport there.
Morning sun in the Traprock Valley.
Looking down on the deck.
Huge visitor on the welcome mat. It was alive and kicking.
These are Mom and Don's kitties.
Friendly little critters.
I did take quite a few pictures with people in them but I don't know how to rotate them :0(
Got a lot more to learn about this iPad app.
- Posted using BlogPress from my iPad